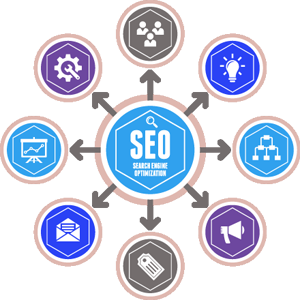 At Blurstorm we possess the ability to "read" your website, and provide continuous feedback on the four critical elements of an effective and user-friendly site: SEO, Social Media, Mobile Optimization, and Site Usability.
First we review your site's content and analytics data. The initial overview isn't dissimilar from what you get with Google Analytics, but it's presented to you in a more obvious, user-friendly, and engaging way – allowing us to review analytics, and start making meaningful changes.   And that's where it gets interesting…
We use a 100-point scale that represents a website's overall effectiveness at any given time.  We then grade that site out of a possible 100 points.  The average score is 50, and the idea is to keep improving your site's score until it reaches 100 or close to it.
We break down all recommended improvement into manageable units, so you can see us working through each task.  For each task that is raised, Blurstorm gives the user detailed instructions, walk-throughs and explanations of keywords and key objectives.
Once you're fully optimized, we can generate reports on any aspect of your site's functionality giving insights into specific "queries" (i.e. how many users are coming to my website from so and so's Facebook page, on a Tuesday).  Meanwhile, our Competitive Analysis feature monitors competitors' sites and allows us to suggest competition-specific improvements for your business, while Blurstorm provides each customer with fully detailed statistics and reports.
Blurstorm tells you exactly what needs to be done to your site and when it needs to be done.   Get your site working at optimal speed and functioning exactly the way it should be and let us be your SEO and SEM experts today!
SEO Packages
Services

Basic

Premium

Time Period (minimum)
6 Months
12 Months
Monthly Fee
$850
$1250
Site-wide Optimization
Initial Website Review/Rank Check
Yes
Yes
Detailed SEO Strategy Plan
Yes
Yes
Keyword Research & Analysis
Yes
Yes
Competitive Analysis
Yes
Yes
Optimization for Google, Bing, Yahoo
Yes
Yes
HTML Sitemap Creation
Yes
Yes
XML Sitemap Creation / Submission
Yes
Yes
Robots.txt file Optimization
Yes
Yes
On-page Optimization
Meta Tags & Page Headers
Yes
Yes
Directory, URL, Navigation
Yes
Yes
Image Optimization
Yes
Yes
Anchor Tag Optimization
Yes
Yes
Content Optimization Suggestions
Yes
Yes
Suggestions for New Pages
Yes
Yes
Off-page Optimization
Search Engine Submission
–
Yes
Directory Submission
–
Paid Dir.
Link Building
–
Yes
"No Follow" Link Check
–
Yes
Social Media Optimization
–
Yes
Analysis and Reporting
Google Analytics Setup
–
Yes
Google Webmaster Tools Setup
–
Yes
Monthly Activity/Keyword Rankings
–
once
Google Analytics Reports
–
Yes
 
 
Website Hosting and Maintenance
 
 
Website  Hosting
Yes 
Yes 
Website Maintenance
Yes
Yes 
By choosing either the Basic or Premium plan Blurstorm will host and maintain your website with monthly updates.  With this plan you have the option of Website Maintenance after the completion of the project.  This is usually done once a month and includes minor changes and updates to the website not to exceed 4 hours.  This includes updates to all text/photos and forms, sending out newsletters, and adjusting any integrated components on the website (Facebook & Twitter feed plugins, etc.) as needed.
Social Profile Management
All Plans Include
Control Panel
Over 50 Scripts to use
Online Web Mail
Powerful Site Stats
PHP, CGI, Perl, SSI
Anti-Spam & Spam Assassin
File Manager / FTP / Anon FTP
Custom Error Pages
Password Protected Dirs
Automated & Manual Backups
Billing System & Helpdesk
Unbeatable Tech Support
MORE INFO
Pricing Per Month for NEW and Existing domains.
Domain Transfers are FREE!
AND…Discounted price for prepaying annually!